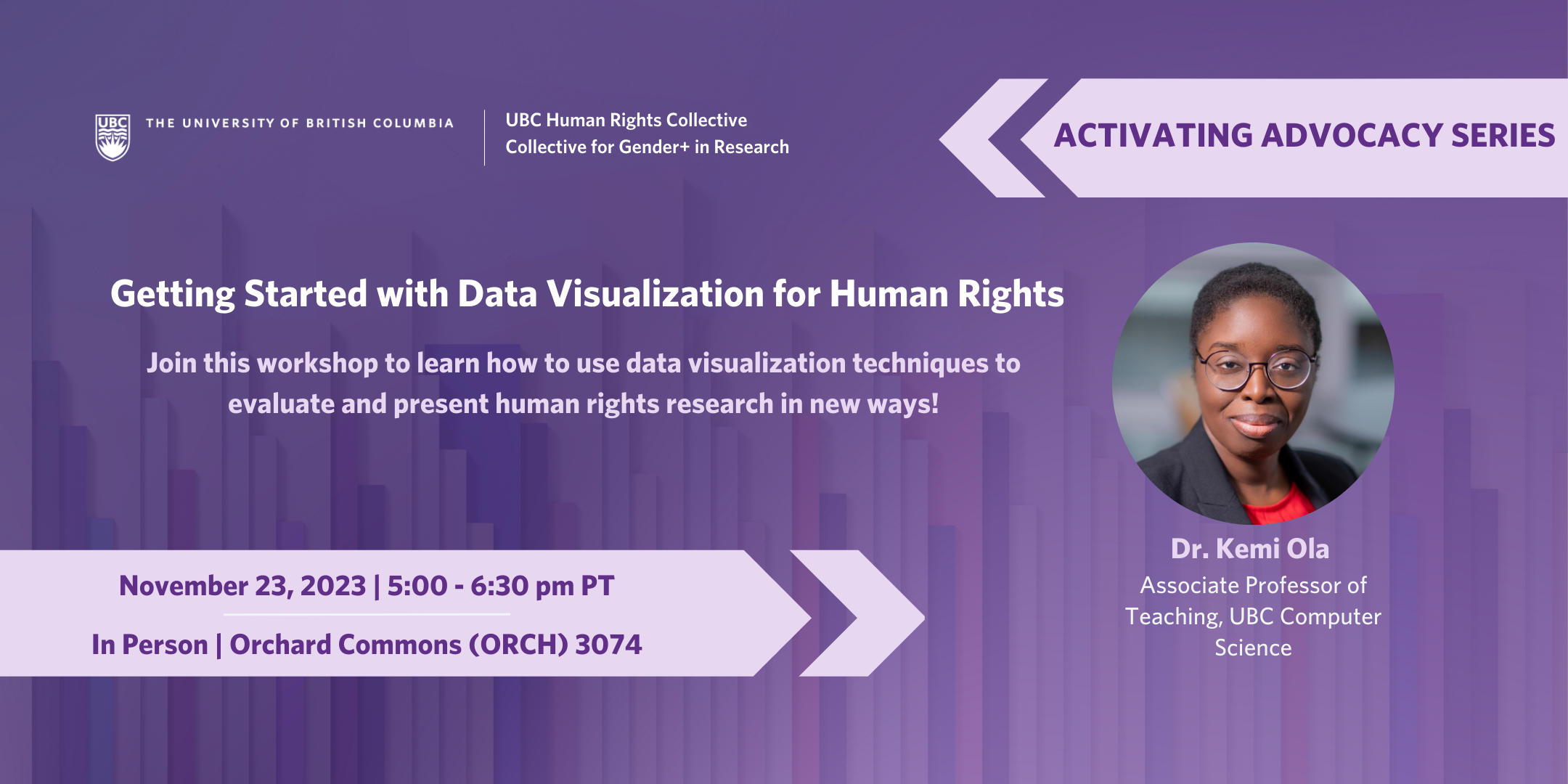 Date: Thursday, November 23rd, 2023 Time: 5:00 – 6:30 pm PT Location: Orchard Commons (ORCH) | Room 3074 Register Here About the Event In an increasingly digitized world, the fields of data science and human rights are converging. New developments in statistics and data science are unlocking new approaches to human rights work domestically and […]
---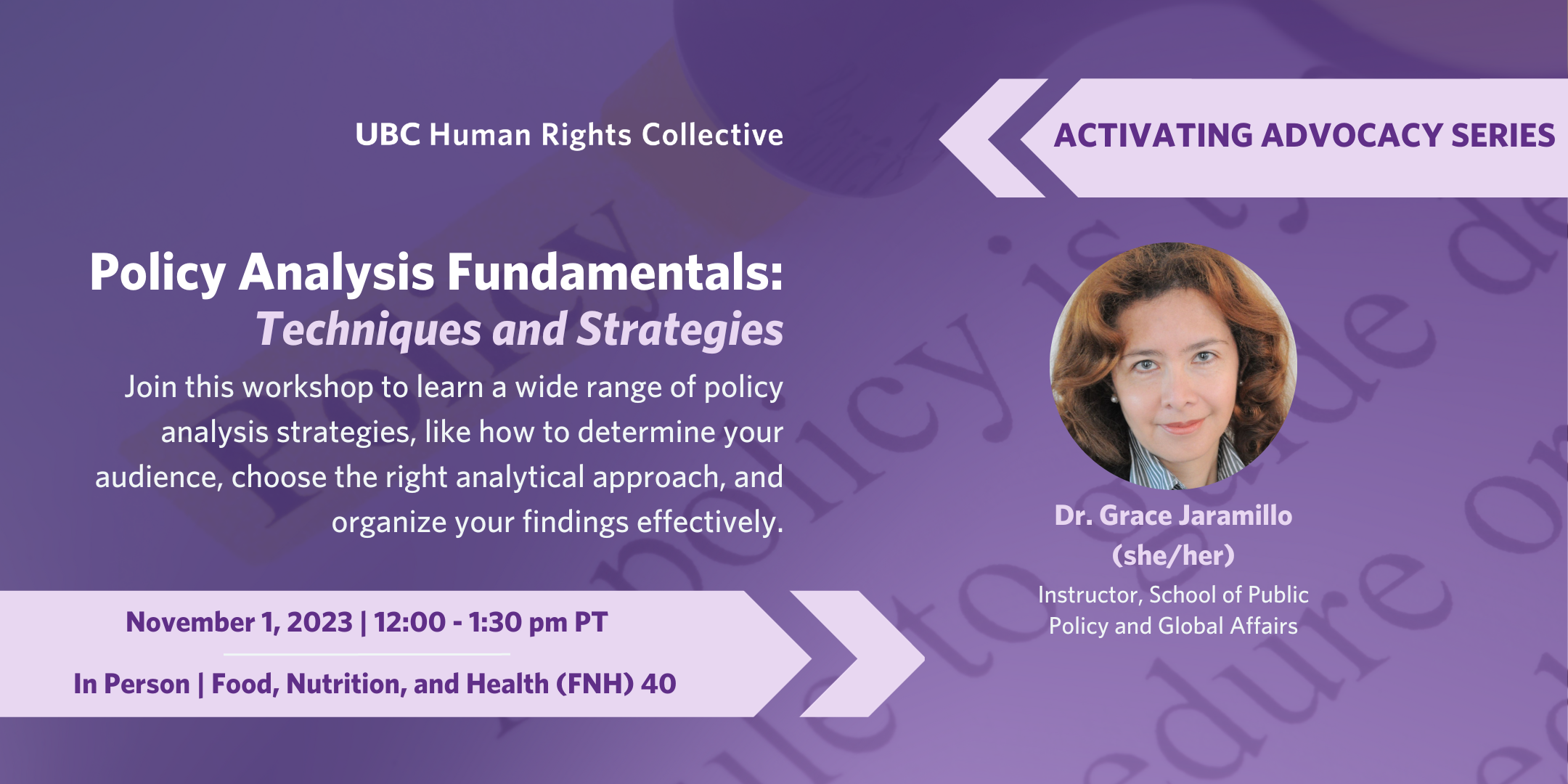 Date: Wednesday, November 1st, 2023 Time: 12:00 – 1:30 pm PT Location: UBC Food, Nutrition and Health Building (FNH) | Room 40 Register Here About this Event Policy Analysis Fundamentals: Techniques and Strategies will introduce participants to a wide range of policy analysis strategies, like how to determine your audience, choose the right analytical approach, and […]
---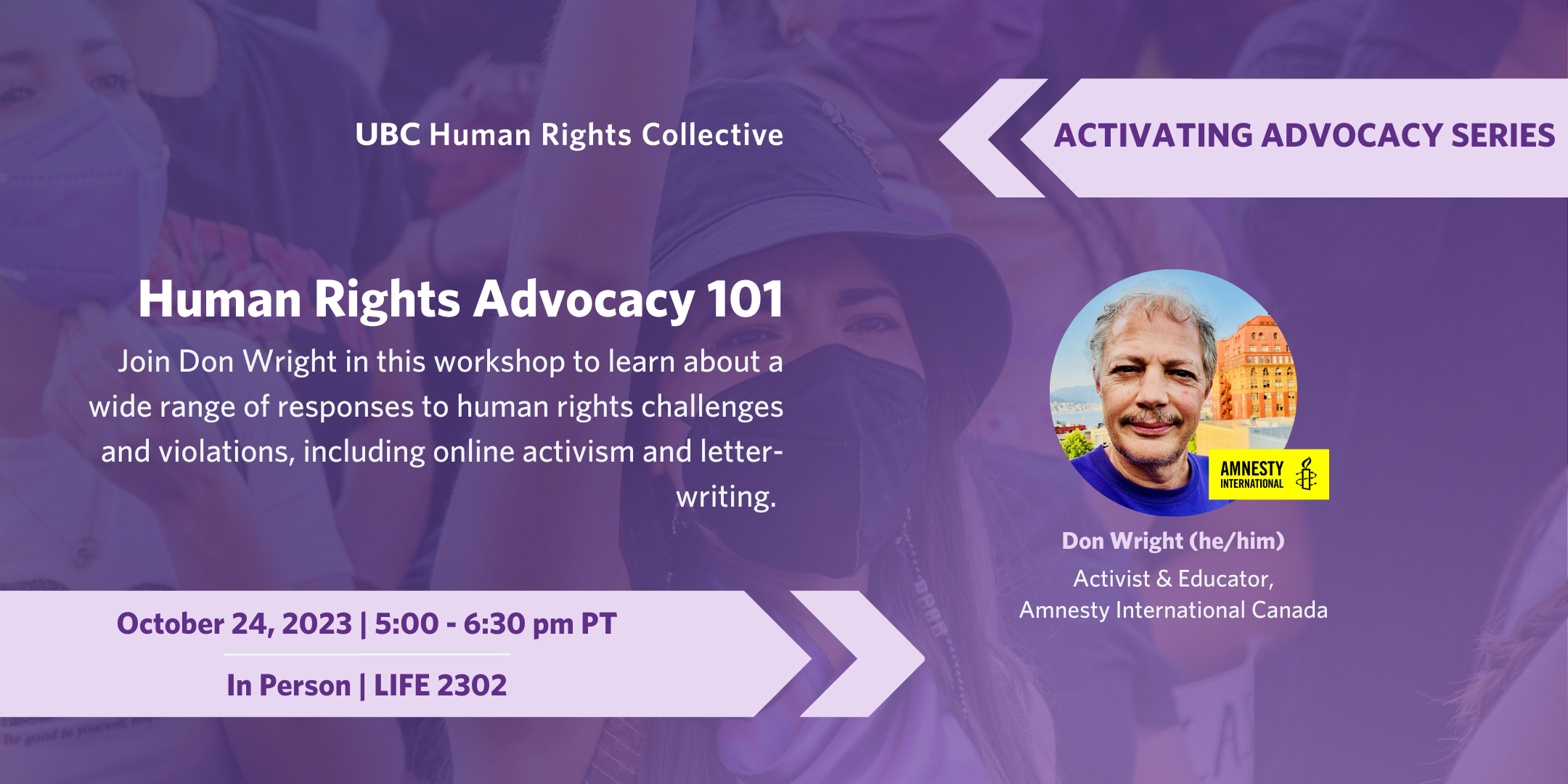 Date: Tuesday, October 24th, 2023 Time: 5:00 – 6:30 pm PT Location: UBC Life Building (LIFE) | Room 2302 Register Here About this Event Human Rights Advocacy 101 will introduce you to a wide range of approaches to responding to human rights challenges and violations at home and around the world. You will learn about online […]
---
About the Event When: Wednesday, August 9th, 4-6 PT Where: Place of Many Trees (Liu Insititue) To foster knowledge-sharing and the exchange of ideas, the "Intergenerational Connections and Futures" (ICF) is organizing a discussion session on August 9th to focus on the significance of, the opportunities for, and the barriers to creating intergenerational scholarly connections among […]
---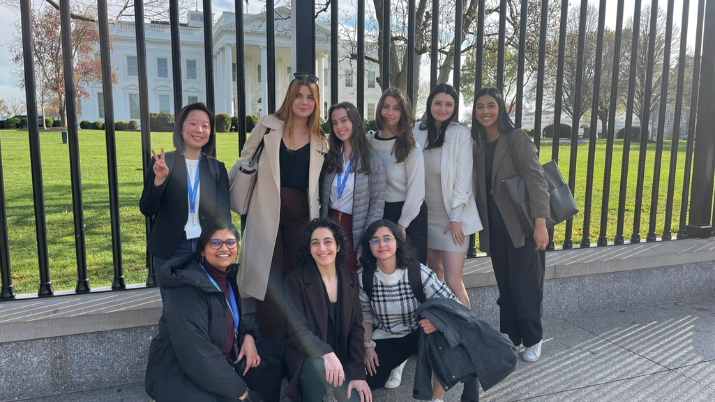 UBC Psychology featured Scholars in Prison Program participants Khushi and Golsa in a Q&A on their experience in the program.
---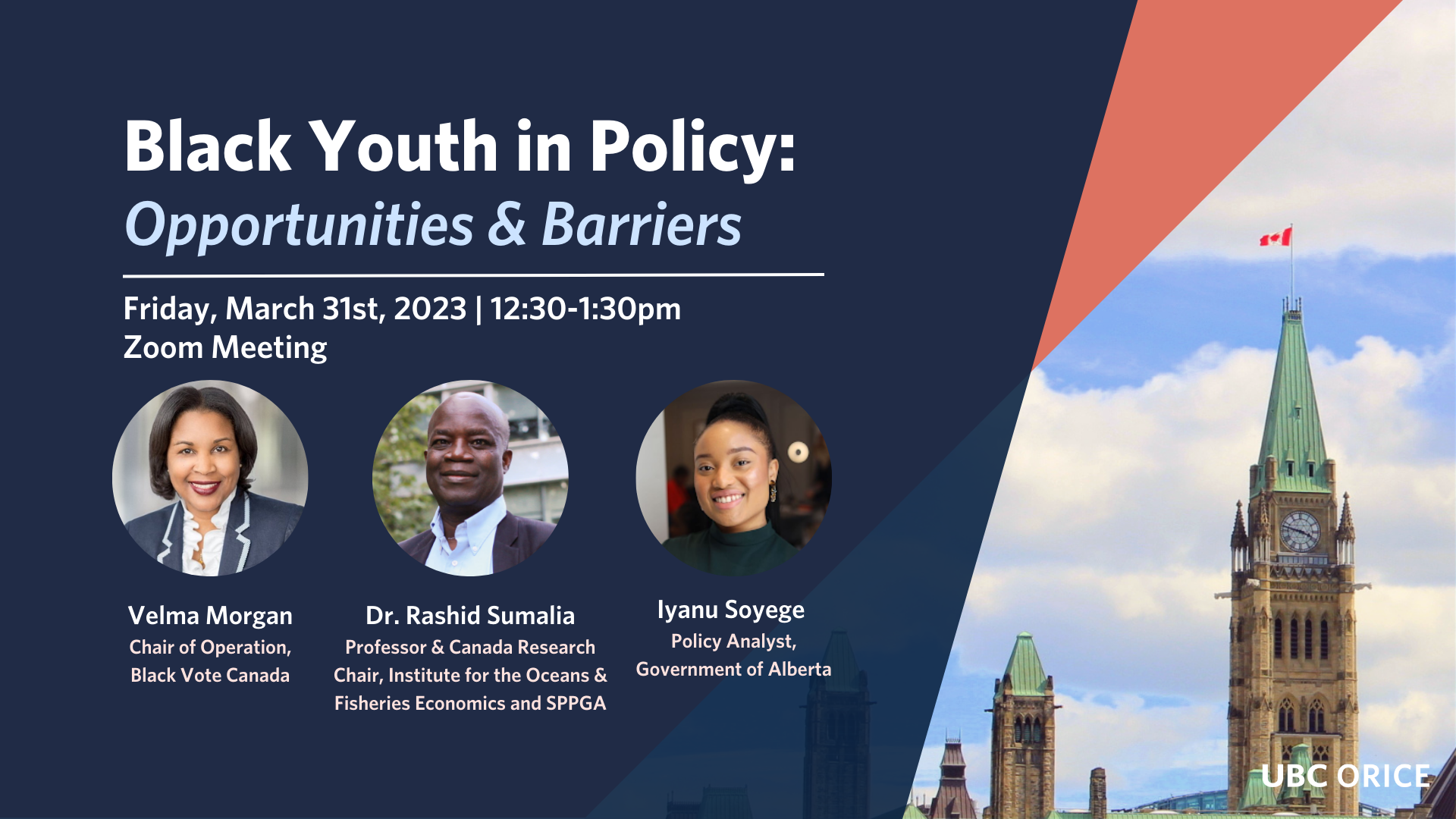 Join Velma Morgan, Dr. Rashid Sumalia, and Iyanu Soyege to discuss the opportunities and barriers for Black youth in the policy field!
---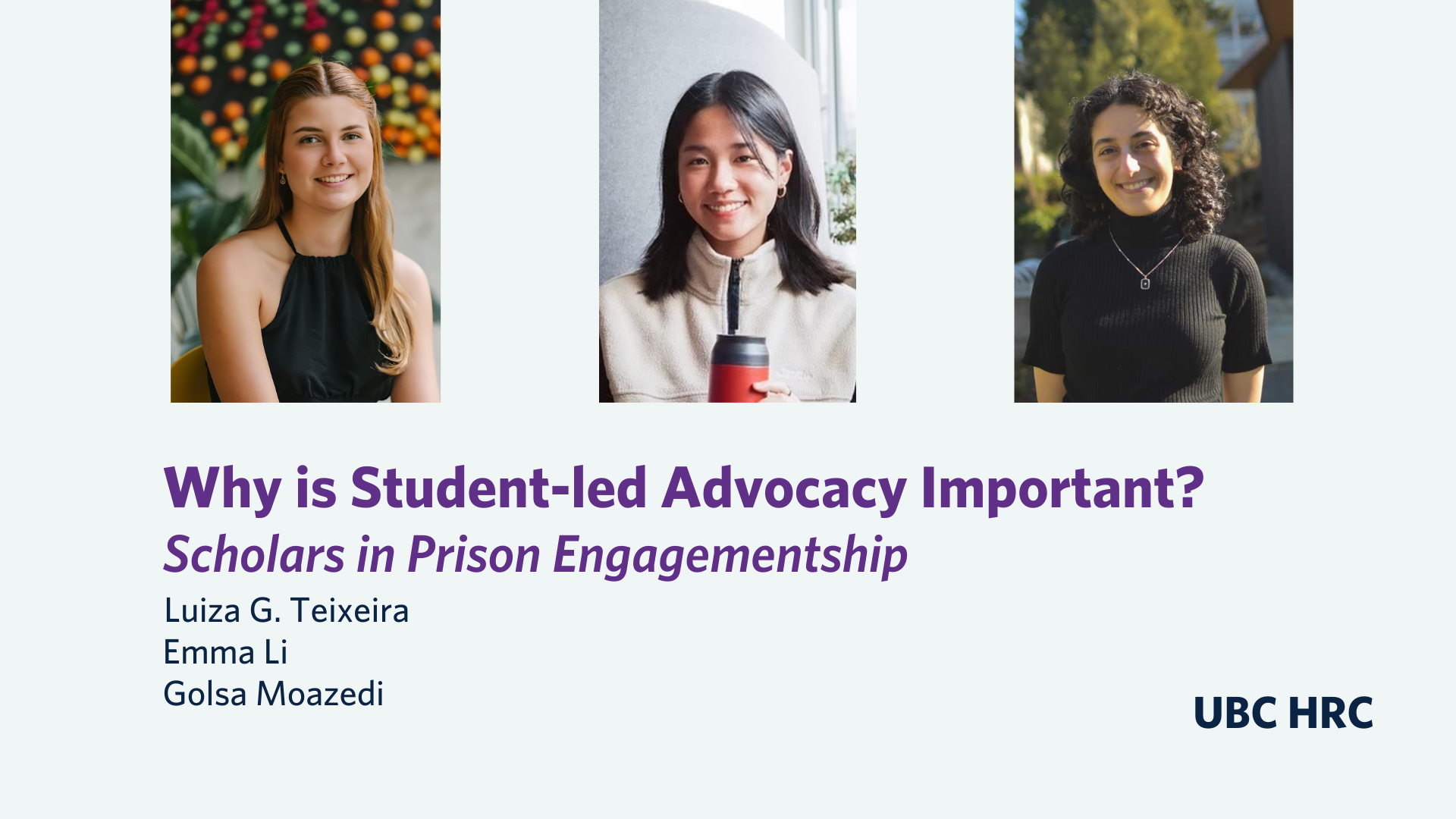 Luiza Teixeira, Emma Li, and Golsa Moazedi reflect on their work in the Scholars in Prison Engagementship and the importance of student-led advocacy.
---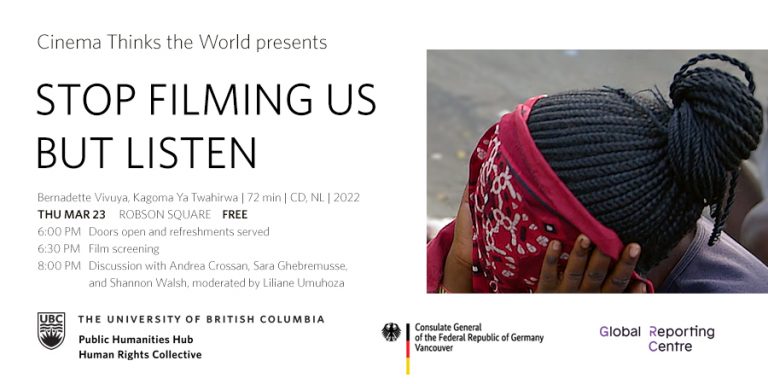 Cinema Thinks the World is pleased to present a free screening of Stop Filming Us But Listen, followed by a discussion about the film with UBC scholars Andrea Crossan (Global Reporting Centre), Sara Ghebremusse (Law) and Shannon Walsh (Film Production), moderated by Liliane Umuhoza (MA Student, School of Public Policy and Global Affairs).
---
This event will feature a panel of young leaders within UBC who are approaching human rights challenges in their communities in unique ways.
---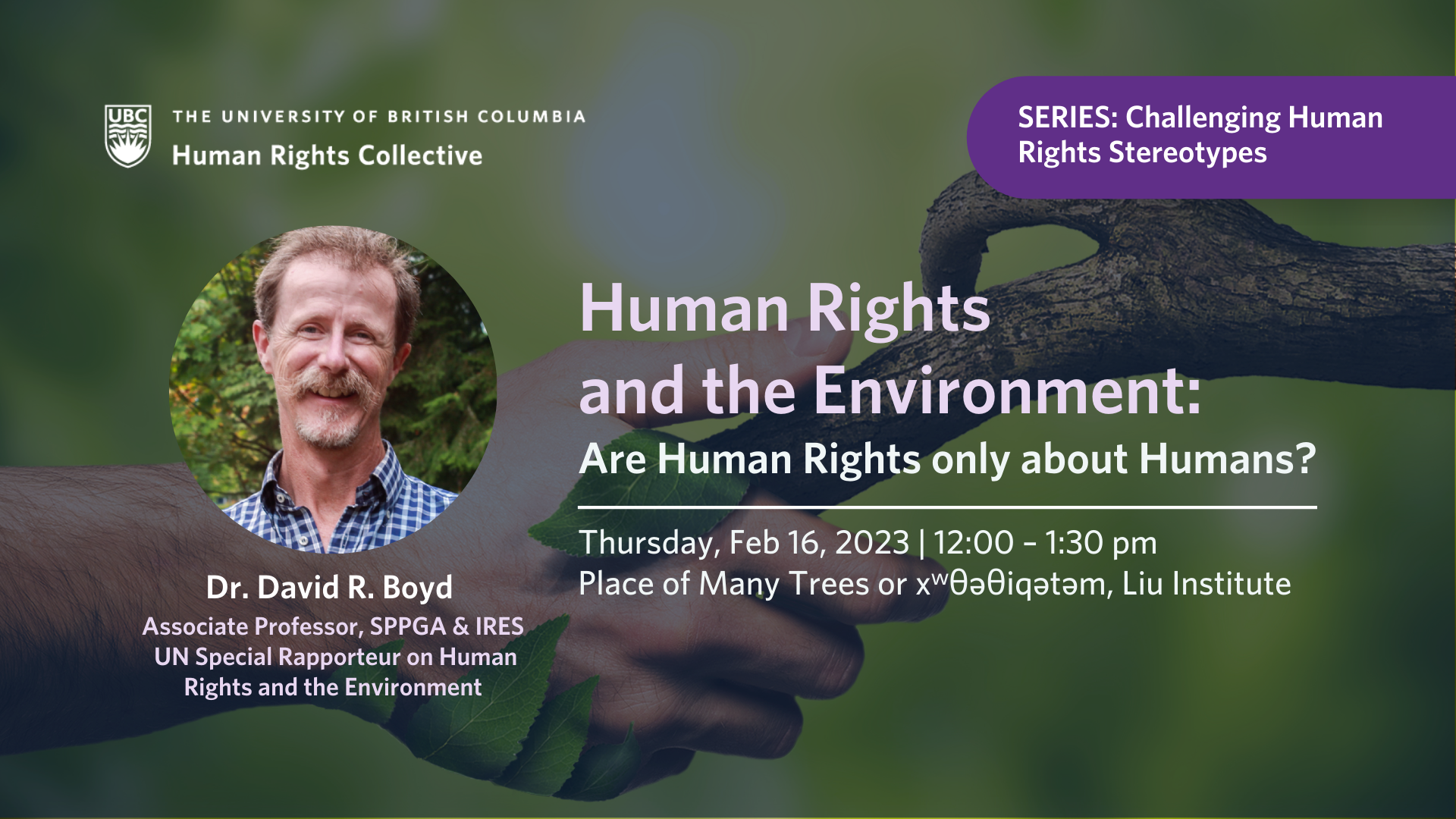 This event has now concluded. Thank you to those who attended. A recording can be found below. This session will focus on the relationship between human rights and the environment. Are human rights only about humans? How can we use human rights to improve our environment? Dr. David Boyd will present how we can […]
---